PerfectGift.com is owned by Wolfe, LLC. Wolfe has been selling gift cards, reward cards, and incentives online since 1999 and we are the founders of GiftCards.com, as well as GiftYa and GiftCardGranny – selling billions of dollars worth of gift cards in the past 24 years. This website culminates our efforts to provide a more perfect gift to you, your recipients and clients. We are committed to purposeful gifting, that is fast, customized, & innovative.
Watch How PerfectGift.com Ships Smiles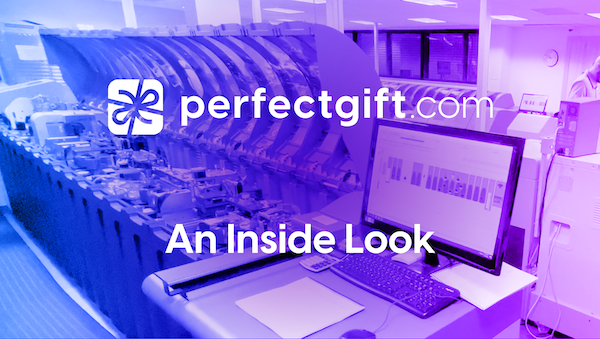 Customer service, speed & experience.
We are proud to own our own 20,000 sq ft, highly secure, on-demand fulfillment center. Located at our headquarters in Pittsburgh, PA, we actually print your customized Visa or Mastercard gift or reward card with your logo or photo and ship it to you the same-day. We also ship out Merchant cards for popular brands like Amazon, Target, Home Depot and many others. We pride ourselves in same day, on demand, delivery.
Additionally, we have our own call center and we do not outsource our support. You can speak to a live Account Executive for bulk purchases within 5 mins of calling us and all of our customer service agents work in-house.
Being the founders of GiftCards.com paired with our industry experience at top companies such as PayPal, Google, RetailMeNot, CashStar, NGC & more – we know gifting better than anybody.
So we created the perfect way to gift.
Cards are printed & shipped same-day!
Personalized, fast & meaningful gifts.
PerfectGift.com was established to provide our customers a more perfect gift. We are committed to continually improve and enhance PerfectGift.com to provide personalization, speed, and flexibility. We offer you a Visa or Mastercard with a logo or photo on the card, printed same-day and delivered the next. We also have hundreds of popular national merchant gift cards like Amazon, Target, Best Buy, and Home Depot. Behind the scenes we are working exciting new products including Card-to-Card gifting and offering flexibility to the recipients with the perfectgift+.
A new way to gift that fixes the broken gift card market.
The PerfectGift is coming soon in 2022!
Never drive to a store to buy a gift card or keeping track of your eGift in your inbox
Never fear the thought of forgetting your card at home or the idea that your gift card information can be stolen
Never waste time and money in the greeting card aisle for a piece of paper they will just throw away
Jason Wolfe is "Pittsburgh's comeback kid"
We founded Giftcards.com in 2003 and sold it in 2016, so we know a lot about gift cards. We started PerfectGift.com in 2019 in order to provide the great service we once did with same day printing of co-brand Visa gift cards and Mastercard gift cards and reward cards.

Over 150 team members spanning 21 states, 6 time zones, 4 countries and 2 U.S. territories, and 1,082 years of combined experience.
We are an elite team of gift card and fin-tech powerhouses working to make PerfectGift.com a household name. We are adventure seekers and DIYers. Dads, moms, grandparents, and pet parents. Gen Z, Millennials, Gen X, and Boomers. Wood workers, chefs, Star Wars fans, and musicians.
Oh, and we all have one mission;
to work hard, be nice, & create the next generation of gifting.
Invaluable experience at top companies
We care about our clients, employees, and community; We serve them with our extreme drive, high integrity and reliable teamwork.
To be considered a perfect present, a gift has to be - first and foremost - sincere. We understand that our customers truly adhere to the value of sincerity by choosing to express their gratitude by gifting a universally-loved gift card. Whether a business is showing appreciation to employees during holidays or a parent showing their love to their child on their graduation, PerfectGift.com is a thoughtful expression.
We strive for simplicity in all aspects of our brand. We want our customers to truly experience the ease in our carefully developed process of gift giving and gift receiving. In this sense, simplicity means more to us than convenience, speed, and efficiency. It reflects our feelings towards gifts: we strive to make the gesture of exchanging gifts as simple and widespread as possible.
We believe in the power of technology and its ability to enhance and improve the daily human experience. That's why we're always striving to stay at the forefront of progress and we promise to continually integrate the latest innovations into our products and services. Gift cards will stand the test of time and we're just here to make them even better.