PerfectGift.com Corporate
Request an account for corporate buying and learn more about how we can help grow your reward program.
Visa Gift Cards
Mastercard Gift Cards
Watch How PerfectGift.com Ships Smiles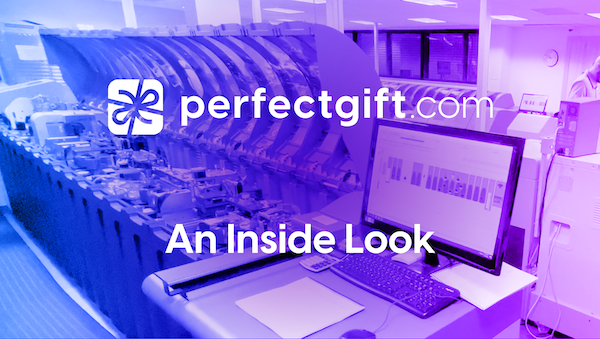 Target, Shell, Walmart and more
Talk with us about our diverse gift card portfolio! Our merchant gift cards come in both physical and digital formats and are more popular than ever. We have inventory on hand for all of the brands we carry and if we have stock, you can easily make a purchase without any wait times.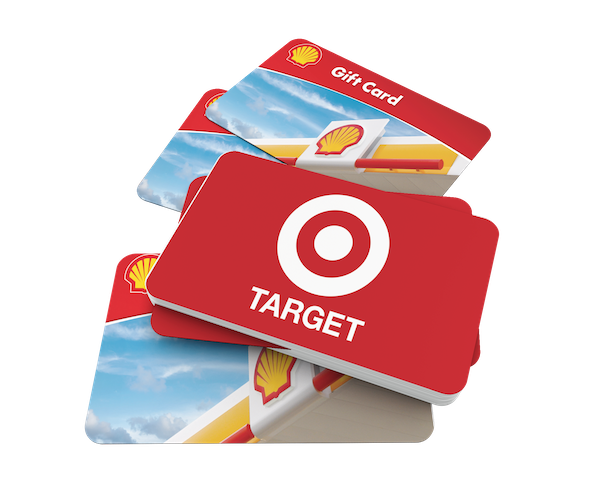 Employee incentives for all occasions
Christmas
Admin Appreciation Day
Employee Appreciation Day
Boss's Day
Employee of the Year Reward
New hire gift
Give the Gift of Gas Gift Cards
Send them on their way, fully-prepared, with a tank of gas using top-selling gift card brands like BP, Shell, Texaco, and more. They're also great for business promotions and employee bonuses.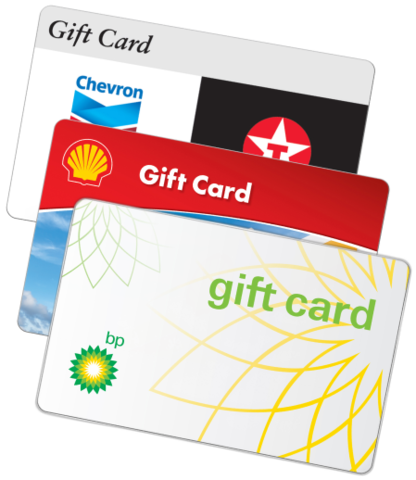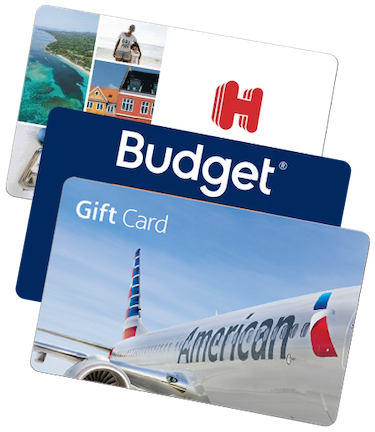 Give a Gift to a Traveler
Inspire the next adventure with the best travel gift cards featuring the most popular brands in airlines, hotels, and car rentals.
Give a Gourmet Gift
Treat someone to a delicious meal from their favorite restaurant with these top-selling gift cards.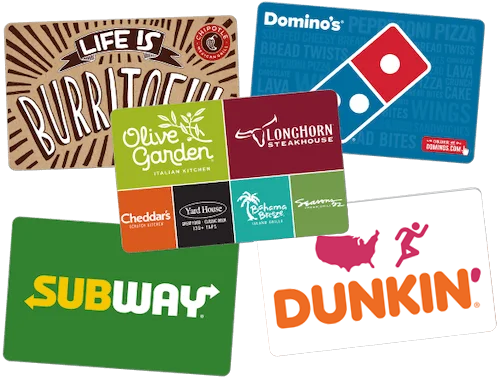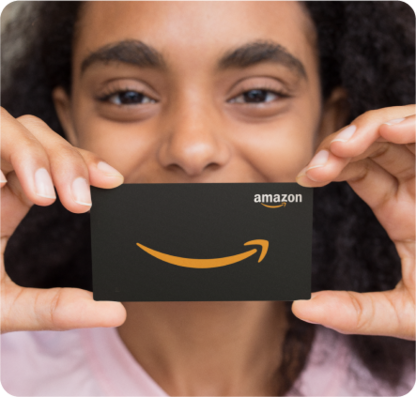 Reward your employees
Incentivize and boost employee performance with reward cards for merchants they love, like Amazon, Walmart, Visa, GiftYa and much more!
—
SEND REWARDS & INCENTIVES AT SCALE
Set up a PerfectGift.com account
Account setup takes minutes
Co-branded Visa or Mastercard
Add your logo to a pre-designed card
Fully custom Visa or Mastercard
Upload fully custom, edge-to-edge design
Fund a PerfectGift.com account*
Add money to your account, or pay as you go
Walmart, Amazon, Target, Starbucks, GrubHub and more!
Add your logo to eGift delivery emails
Reinforce your brand image by adding your logo!
Include a custom message to your recipient
Customize for each recipient or send a generic message
Visa & Mastercard carriers
Affix each card to a tri-fold paper in an envelope!
Dedicated account representative
We respond in less than 5 minutes!
Live specialists based in US
*3% charge if paying by credit card
Bulk Gift Cards
Bulk gift cards are perfect for employee incentives, customer loyalty programs and much more.

Experience the convienience of
Card to Card

gifting
A card-to-card gift or offer refers to a consumer receiving a coupon, promotion or reward value onto their existing credit or debit card for a qualified transaction. The major payment networks including Visa, Mastercard, and American Express have created platforms for banks, retailers and marketers to track and manage these 'offers' to their participants.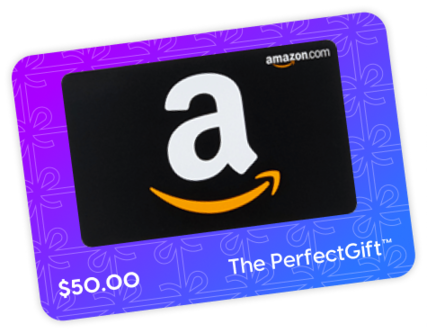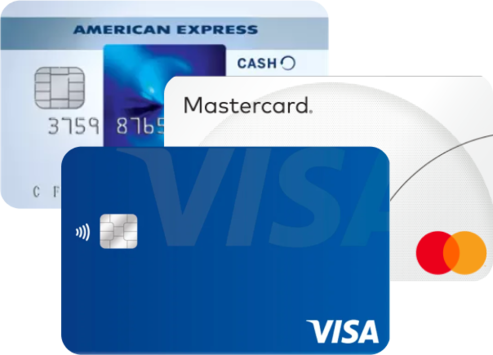 Card-linked offers and gifting programs have grown tremendously in the past 5 years.
In 2013, an industry association called CardLinx was formed to collaborate and establish standards. Notable members include Microsoft, Samsung, Hilton, CapitalOne, Mastercard and dozens more. To date, CardLinx reports more than 6,000 merchants and 700 million users worldwide participating in CLOs.
We started working with Mastercard, Visa and American Express in 2017 to implement their CLO technology as the power behind our card to card gift. Not only did this help fulfill one of our visions to reduce and eliminate some of the waste (unused gift values) in the gift card space, but we found many other benefits for gift-givers and recipients including:
Choice
By leveraging Visa, Mastercard, and Amex's network, you can send a gift to thousands of popular local and regional brands that are not available on the traditional gift card racks in your grocery store. Local businesses can join our list of brands for free and have their own eGift option available to their customers within days.
Speed And Convenience
Our card-to-card gift allows the giver to send a gift in minutes from the convenience of their phone or computer. While this sounds like a simple thing, sending a gift card in the mail takes days, and if you have ever tried to send an eGift card online, in most cases it takes several hours because of credit card fraud concerns. The technology behind the card to card gift makes it difficult if not impossible for fraudsters to manipulate, which allows us to deliver the gift minutes after its ordered.
Security And Reliability
Gift card scams cost consumers and retailers millions of dollars every year. The reason why is gift cards are anonymous and extremely difficult to trace back to a purchaser or recipient.
With our card to card gift, the gift is securely attached to the recipient's Visa, Mastercard or Amex and all account information is maintained by those networks (i.e. we do not store any card information). If a recipient loses their credit card that the gift is attached to, the gift can be transferred to their new card.
Paper Or Plastic: None Of The Above
Industries do not shift overnight. People get comfortable with the products and services they use and need to see their peers embracing alternative solutions before they change.
The gift card started to replace paper gift certificates in the '90s and since then the product has not changed much outside of the packaging. Electronic gift cards are available but typically limited to larger brands and pose the same problems with unused funds and fraud.
GiftYa may not replace the gift card in the next several years, but it's already filling a void for customers looking for a fast, easy and reliable way to send a personalized gift.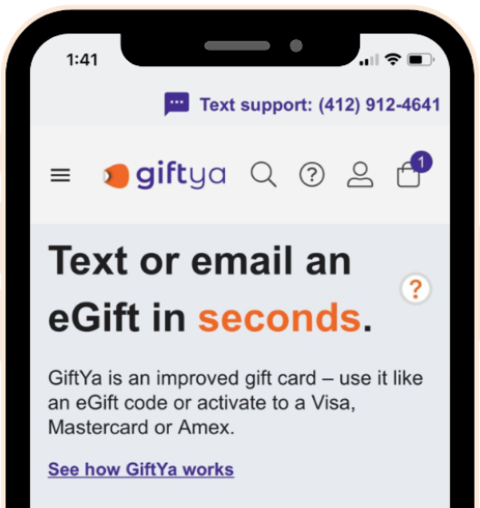 Gifting like you've never seen before
GiftYa is the next generation gift card. It's personalized and delivered by text or email. Recipients can use it as an eGift code OR activate it directly to the Visa, Mastercard or Amex in their pocket.
We create social cohesion and collaboration as we treat others with respect and collectively succeed.
We give our time, talents and resources in service to each other and our community proactively.
We're self motivated, empowered, diligent, and committed to our best performance in everything we do.
The foundation of our company is trust, with every interaction and transaction.