Co-Branded Mastercard Reward Cards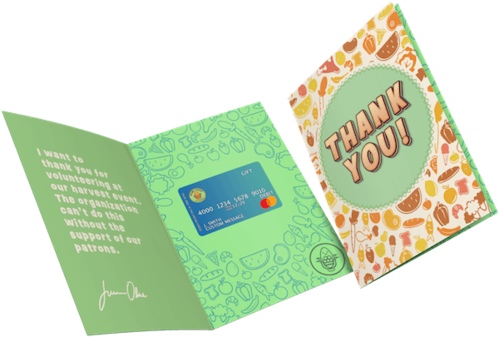 Customized Mastercard with your logo
Same-day shipped, any quantity
Customized matching greeting card option
Enter a few details to get your account started


Find the Perfect Gift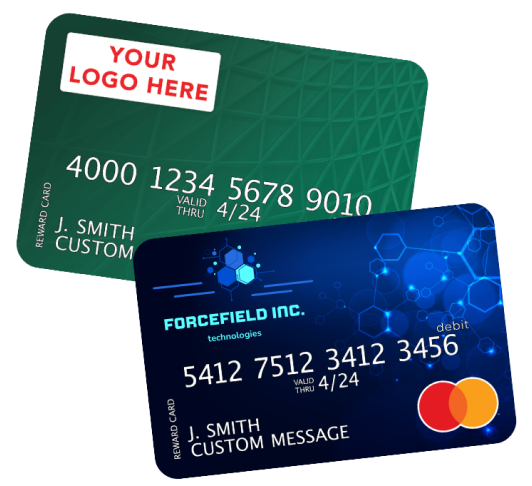 Create a Mastercard Reward Card to drive engagement, thank clients or reward employees. Easily add your logo to one of our trendy predesigns or create an edge-to-edge design that's all yours.
Branded gifting options with your logo
Use it for employee incentives & rewards, marketing efforts, redemption & rebate programs, tradeshow giveaways & more!
Used anywhere Mastercard is accepted
$1 – $1000 denominations
Personalize with a message
In-house production facility
Same-day production & fulfillment
Funds never expire
No minimum volume requirements
No pre-production required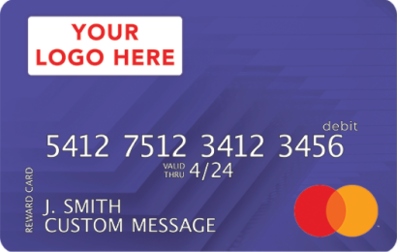 Logo only
Your business' logo on one of our predesigned backgrounds.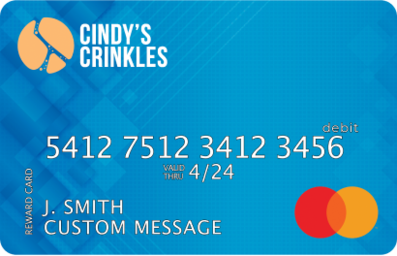 Upload a full design
Upload your own full color, edge-to-edge design with your logo.
Customizable, fast, & easy to send.
Denominations $1 - $1,000
Up to 10k for certain programs!
Customized card messaging & design
Same-day production & fulfillment
Funds never expire (No fee down)
No minimum volume requirements
No pre-production of materials required
Centralized order, reporting & tracking
24/7 customer service & dedicated account rep
Choose the perfect delivery method for your employees and clients
This free 8.5x11" Z-Fold carrier is the perfect way to deliver your reward cards with care and provide helpful tips and details to all recipients.
For only $1.99, you can make a connection with your contacts during important events or holidays with our all-occasion personal and business greeting cards.

Easily check balances online
Recipients can activate online or by phone
Frequently asked questions
How much does it cost to buy or send a Mastercard Reward card?

Card fees vary by the quantity of cards, expiration period, and format. Most cards average $3.95 (plus the face value of the card) There are no fees for your card recipient when used in the USA (no activation, use, or inactivity fees).
How do I use my Mastercard Reward Card?

Before using your gift card, you must activate it.

After activation, it can be used in-store, online and by telephone nearly everywhere Mastercard is accepted in the USA.

Please see additional details on use outside the USA and prohibited usage.

Your card is valid for use until the funds are exhausted or the card has expired.
Do my funds ever expire?

Your card expires on the last day of the month on the date printed on the front of the card.

If you have remaining funds on an expired card, you may request a new card for a fee of $5.00 that is removed from your card's balance.

To request a replacement card, please contact our support team.
Can my card be used internationally?

Your card may be accepted in some countries outside of the USA. We are unable to contest a declined transaction in a foreign country.

If the card is used outside of the United States a 3% currency conversion fee will be deducted from your available card balance.

Monetary policies including the use of prepaid cards are governed by each locale and subject to change without notice.

The card is not accepted in all countries and is expressly not accepted in these countries.
What happens if I return or cancel a purchase made using my Mastercard Reward Card?

Credits from merchants for canceled or returned orders will be applied to your gift card.

If you have discarded your Mastercard Reward Card, in some cases a replacement card may be able to be issued.
Is there a minimum age to send or receive a Mastercard Reward Card?

Purchasers must be at least 18 years of age. Card recipients must be at least 13 years of age.