Virtual Mastercard Gift Cards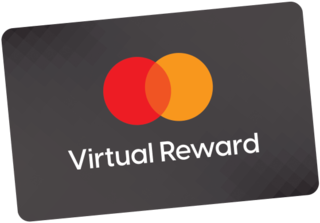 Customized Mastercard with your logo
Same-day shipped, any quantity
Customized matching greeting card option
Enter a few details to get your order started


Find the Perfect Gift
In today's world, people expect digital integration in all facets of their day-to-day lives—receiving and redeeming rewards are no exception.
Our digital rewards are delivered via email, and some can even be added to a mobile wallet. Customize these rewards with your branding and personalize with your recipients' names and a brief message.
Customizable, fast, & easy to send.
Denominations $1 - $1,000
Up to 10k for certain programs!
Can be used internationally
Recipients can convert to a physical card
Download links or let us handle delivery
Add your logo to the email
Centralized ordering, reporting & tracking
24/7 customer service & dedicated account rep
Over $170 million in card load
Join over 3,900 companies who send rewards with PerfectGift.com
With 99.99% same-day, error-free digital & physical issuance and a 3 minute average response times from our sales team, it's no surprise we have a 70% repeat purchase rate from clients all over the nation.
Frequently asked questions
How do I use a Virtual Mastercard?

Virtual Mastercard cards may be used online and by telephone, almost everywhere Mastercard is accepted in the USA. Virtual Mastercards are generally not accepted in-store. If requested by the merchant, provide your name and USA home address.

Important note, most merchants do not accept payment by gift card for the purchase of another gift card.
How long does it take to deliver a Virtual Mastercard?

Virtual Mastercard delivery is via e-mail. Delivery is generally under 30 minutes and in some cases nearly instant. In some cases, you may receive an email asking to verify your account or purchase prior to order processing and delivery. Some orders require further review requiring up to 1 business day (Monday – Friday 8 AM – 5 PM ET excluding holidays).
What if a Virtual Mastercard card has been lost?

If you have lost your Virtual Mastercard card you may request the original link be resent to your email by contacting us.
Can I personalize my Virtual Mastercard reward card?

Virtual Mastercards may be personalized with a custom message and a logo included in the email delivered to the recipient.
How do I set up an ordering account?

Creating an online ordering account is fast and easy.

Generally, all that is need is a quick verification of:

Company name
Company address
Company phone number
Company website
Company Tax ID (EIN)
Brief description of how cards will be used (i.e. customers, employees, etc.)

Click here to get started.