Co-Branded Visa Reward Cards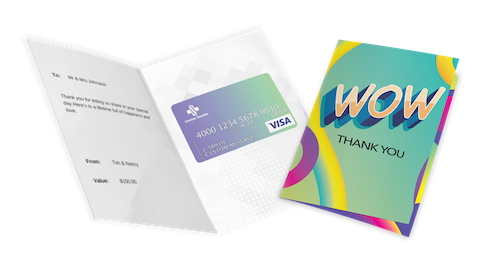 Customized Visa card with your logo
Same-day shipped, any quantity
Customized matching greeting card option
Enter a few details to get your account started


Find the Perfect Gift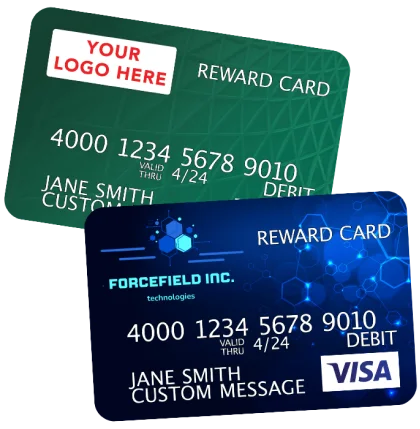 Create a Visa Reward Card to drive engagement, thank clients or reward employees. Easily add your logo to one of our trendy predesigns or create an edge-to-edge design that's all yours.
Branded gifting options with your logo
Use it for employee incentives & rewards, marketing efforts, redemption & rebate programs, tradeshow giveaways & more!
Used anywhere Visa is accepted
$1 – $1000 denominations
Personalize with a message
In-house production facility
Same-day production & fulfillment
Funds never expire
No minimum volume requirements
No pre-production required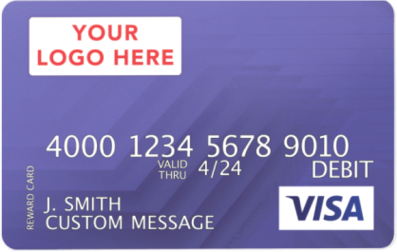 Logo only
Your business' logo on one of our predesigned backgrounds.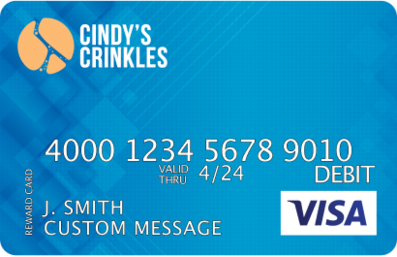 Upload a full design
Upload your own full color, edge-to-edge design with your logo.
Not interested in co-branded Visa Reward Cards?
Explore our custom, predesigned, and virtual Visa options.
Just a few for friends & family?
Upload your photo to a Visa or Mastercard.
Choose a trendy card design fit for any occasion. Printed & shipped same-day.
Personalize with your own photo or choose a predesigned wrapper.

Customizable, fast, & easy to send.
Denominations $1 - $1,000
Up to 10k for certain programs!
Customized card messaging & design
Same-day production & fulfillment
Funds never expire (No fee down)
No minimum volume requirements
No pre-production of materials required
Centralized order, reporting & tracking
24/7 customer service & dedicated account rep
Choose the perfect delivery method for your employees and clients
This free 8.5x11" Z-Fold carrier is the perfect way to deliver your reward cards with care and provide helpful tips and details to all recipients.
For only $1.99, you can make a connection with your contacts during important events or holidays with our all-occasion personal and business greeting cards.

Easily check balances online
Recipients can activate online or by phone
Frequently asked questions
What is PerfectGift.com?

PerfectGift.com is the newest, most revolutionary gifting platform available. We took the standard gift card model in a fresh and modern direction, and the result is a meaningful, fast, flexible and personalized way to send gifts compared to the standard gift card that has not changed since Blockbuster invented it in 1994.




With our proprietary platform, you can send personalized Visa gift cards, eGifts for top brands (coming in 2022!), OR take the stress out of choosing and let the recipient choose which gift they would like by sending The PerfectGift™ (coming in 2022!).
What is The PerfectGift™?

The PerfectGift™, coming soon in 2022, is the most flexible and personalized gift on the market. The recipient will start by choosing from our catalog of top national brands and over 35,000 local brands across the United States. Then, they choose their preferred way to use that gift. Either by activating the gift to their Visa, Mastercard or Amex, or choosing to use as an eGift. Alternatively, they can choose a plastic Visa gift card or cash out to their Venmo or Paypal account.
How can I customize a gift card?

Don't send a regular outdated gift card that will just end up in a drawer! By creating and sending a personalized Visa gift card with a photo of your choice, you're giving a unique, thoughtful, truly one-of-a-kind display worthy gift. Choose to have it delivered in a free carrier, OR choose a trendy greeting card for only $1.50!
Can I order in bulk for my business?

Need personalized cards in bulk in a hurry? Choose from our gallery of pre-designed Visa & Mastercard reward cards or put your business logo on a co-branded reward card for instant brand recognition and incentive opportunities. Or, for ultimate convenience and accessibility go digital when you send a Virtual Visa or Mastercard.
What does PerfectGift.com offer to my business?

We print in-house

We have the only in-house fulfillment center in the United States.

Same-day shipping

Place an order and it will be approved, printed & shipped within hours.

Self-service portal

Free access to your own portal to place customized orders at any time.