Personalize a plastic
Visa gift card!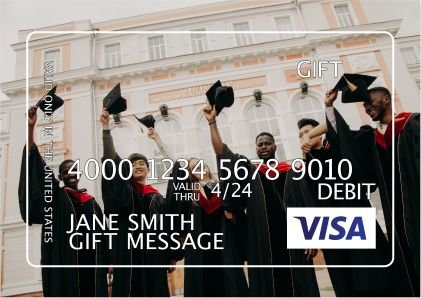 Sending a plastic Visa gift card is easy
Upload a photo or choose from one of our pre-designed backgrounds.
Add a message and package the gift card in a greeting card or trifold carrier.
Ship to yourself and deliver to your recipient, or have it mailed directly to them.
What our recipients are saying
Ordered several gift cards with a picture of my cat. Fantastic picture quality and fast delivery, would recommend.
My favorite gift I received all year!
My mother in law got me this Visa card for my birthday and I will always cherish it! It has my favorite family photo on it. It makes me smile every time I look in my wallet.
It's pretty! I really like the color of it. NICE! NICE! JILL! Thank you so much for your help and having patience with me. I will be contacting you soon to order more!
Debbie Pearson, Office Coordinator, TubaGroup.com
Frequently asked questions
Where are plastic Visa gift card accepted?

Our Visa and Mastercard Prepaid Gift Cards are valid for purchase and use within the USA only. They are accepted almost everywhere that accepts Visa or Mastercard debit cards. Use these cards just like you would use a regular debit card.

Virtual eGifts are valid for use online only but can be exchanged for a plastic card to use in store! Plastic cards are valid for in-store and online use.
Do Visa gift cards expire?

Visa gift cards are valid for 7 years or until the funds have been exhausted. If there is still a remaining balance on a card after it has expired, a replacement card can be issued by contacting customer care.
Are Visa gift cards reloadable?

No. Prepaid Visa gift cards are NOT reloadable.
Are there restrictions on where I can use a Visa gift card?

Restrictions on Visa & Mastercards include but are not limited to:

Purchases outside of the United States
Money transfers
Venmo, CashApp, PayPal, etc.
ATM access
Purchase of gift cards
Excluding Amazon
Gambling online or in casinos
Dating services
Adult entertainment
Subscriptions/bill pays
Online purchases that exceed the available balance on your card