This is the
Perfect Gift!

Customized cards with your logo
Same-day shipped, any quantity
Customized greeting cards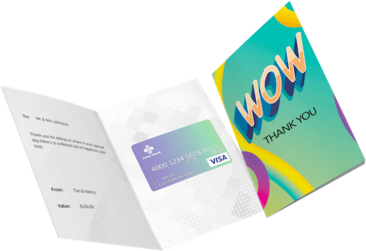 Enter a few details to get your order started


Customized cards with your logo
Same-day shipped, any quantity
Customized greeting cards
Visa Gift Cards
The perfect gift for your employees or clients
Create an account and get access to your own full service ordering portal, 24/7 customer support, and more.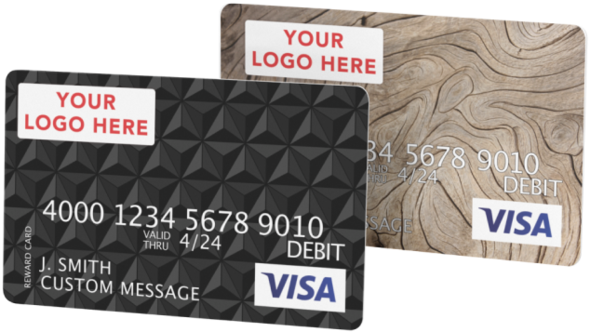 We know gifting better than anybody
We won the award for Pittsburgh's Fastest Growing Company in 2022
We're the founders of GiftCards.com
20+ years of Gifting experience
We fill orders SAME DAY for eGift and plastic
We ship the same day orders are placed to arrive NEXT DAY
We can get your logo or photo on a card in any quantity
We own our own highly-secured on-demand fulfillment center

Same-day shipping
We have the only in-house fulfillment center in the United States.

Our Print-on-Demand solution enables you to personalize each card

Place an order and it will be approved, printed & shipped within hours.
Marketing incentives that are quick and easy to send
Generate leads and pipeline
Boost conversion rates
Grow lifetime customer value
Increase event attendance and engagement
Nurture and convert prospects into customers.
Retain customers
Generate lucrative customer referrals
Work with our technical experts to learn how to automate your rewards program
Orders are processed automatically 
(pending available funding).

Digital orders are available immediately. 

Physical card orders of 2,500 or less are shipped the same business day if received by 2pm ET.
Personalized

corporate rewards for every occasion.

Over $170 million in card load
Join over 3,900 companies who send rewards with PerfectGift.com
With 99.99% same-day, error-free digital & physical issuance and 1 minute average response times from our sales team, it's no surprise we have a 70% repeat purchase rate from clients all over the nation.
The average nationwide response time is 3 hours 18 minutes
We respond in less than 3 minutes.
We are proud of our unconditional commitment to deliver the highest level of prompt and professional service to every customer. Our Inside & Outside sales executives possess the knowledge, enthusiasm, and care you need to help execute your incentive or reward plan.

Client testimonials
"PerfectGift.com made it extremely easy and cost effective to acquire Visa cards to support my business. You guys executed on all your commitments and the entire process couldn't have been easier for me. PerfectGift.com will definitely be the way I go from this point forward."
"America's Catch's experience with Richard and Rebecca has been great. They make the ordering process very easy and straightforward with the online system. Our cards always come in timely and orderly."
"The team was very reassuring about the gift card arriving on time. I have had four other orders (not for gift cards) that I have had to cancel because they were "delayed" and would not arrive before Christmas. In all of those cases, finding out the status of the orders was difficult. I will be happy to use perfectgift.com again in the future."
—
Ideal for your team, clients or prospects
Businesses of all sizes need effective and custom solutions
Branded gifting options with your logo
Speedy digital & physical delivery options
Volume-based pricing for bulk orders
Free access to your own ordering portal
Same-day shipping on Reward cards
400+ national gift card brands
Centralized ordering, reporting & tracking
24/7 customer service & dedicated account rep
—
Digital delivery options
Give instant recognition with Virtual Visa & Mastercard Rewards
Instantly deliver in bulk through email
Can be used anywhere online where Visa and Mastercard are accepted
$10 - $500 denominations
Eco-friendly
Personalize with a message
Prepaid products created with you in mind.
Physical & digital options
In-house production facility
Same-day approvals
Order in bulk or individual
On-demand cards, carriers, labels, etc.
Custom & stock greeting card capabilities
Full-service client portal
Funds never expire (no fee down)
Breakage options for unused balances
24/7 US-based cardholder support
No minimum volume requirements
No pre-production required
Customizable email templates
Employee incentives for all occasions
Holiday gifts
Birthdays
Bonuses
Recognition
Employee of the Year Reward
New hire gift
Add your logo to an existing greeting card or upload an edge-to-edge custom design.
All-occasion personal and business greeting cards to make a connection with your contacts during important events or holidays.
Thank you, sympathy, holidays, birthdays and more!
Add your logo to an existing carrier or upload a custom design.
This 8.5x11" Z-Fold carrier is the perfect way to deliver your reward cards with care and provide helpful tips and details to all recipients.